Budget Initiates a Step Forward for Living Wage
The 1998 budgets submitted in early October by Dane County Executive Kathleen Falk and Madison Mayor Susan Bauman both contained significant living wage initiatives which provide a big first step toward achieving the goals of the Living Wage Campaign.
The County's Human Services Department recommended to Falk that employees of agencies holding human service contracts should be brought up to a minimum of $7.50 an hour through the 1998 County Operating Budget. In meetings with county officials, representatives of the Living Wage Campaign strongly supported this initiative as a good first step toward a living wage. The Campaign defines a living wage as 110% of the poverty level for a family of four, plus health insurance.
When County Executive Falk presented her budget to the County Board, she not only included the $870,000 needed to provide the $7.50 minimum for human service workers, but an additional $300,000 to deal with a 'wage compression' concern expressed by human service vendors. This latter money would provide raises for senior and lead workers who are already at $7.50 or a little above it.
The City of Madison's Living Wage Task Force, meanwhile, recommended to Mayor Bauman that the city's 1998 budget follow suit and include money targeted to raise wages to $7.50 an hour for human service agencies receiving funds from the city's Community Services Commission or from the Community Development Block Grant Commission. Bauman accepted this recommendation and included the city's first ever living wage line item in her 1998 budget.
To date, both of these initiatives appear to have been received very favorably by the County Board and the City Council. If opposition does develop, living wage proponents will be contacted to demonstrate the public's support for these initiatives.
While these budget initiatives are wending their way through the legislative process, the city's Living Wage Task Force will continue to work on a permanent solution and the county's Corporation Counsel will be drafting language for an ordinance to implement a permanent living wage policy.
On Monday, September 29, twenty-five members of the Living Wage Campaign's Legislative Committee convened to approve a proposed ordinance and to plan a strategy for successful votes on that ordinance at both the County Board and the City Council. At the city, we will have to wait for a report from the Living Wage Task Force; but at the County, Supervisors John
Hendrick, Darold Lowe, and Tom Stoebig took the results of the Legislative Committee meeting and requested Corporation Counsel to begin drafting an ordinance.
The language recommended by the Legislative Committee would phase in the living wage over a three year period. Those covered--employees of government, firms with government purchase of service contracts, and firms receiving government economic development assistance--would have to be paid 100% of the poverty level for a family of four in 1999, 105% in 2000, and 110% in 2001. These employees would also have to be offered health insurance comparable to a standard Dane County HMO policy, with the employee paying no more than 25% of the premium. Employers failing to offer health insurance would have to pay an additional 15% in wages.
The Legislative Committee's timeline would have the County ordinance introduced immediately after completion of the 1998 budget process and final passage occurring well in advance of the the May 1 submission of human service purchase of service proposals for fiscal year 1999. The city process, because of the need for a report from the Living Wage Task Force, would probably trail the county's by a month or two, but would also meet the May 1 deadline.
After a year of planning, preparation, and education, the legislative effort of the Living Wage Campaign is now in full swing.
W-4 Supporters Speak Out at August Rally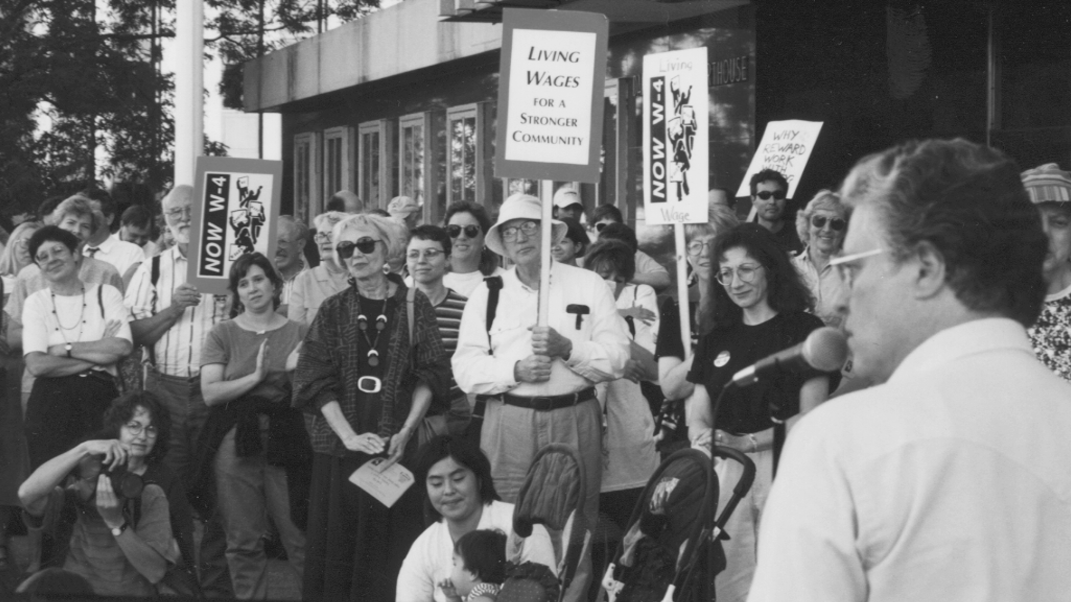 Supporters Rally for a Living Wage for the City of Madison
A crowd of nearly three hundred turned out, August 13, at a rally in support of W-4: a Workforce With Worthy Wages, on the steps of the City County Building.
The rally was scheduled just prior to a public hearing before the City's Living Wage Task Force, and was "intended to demonstrate the broad public support the Living Wage Campaign has accumulated in the past year," said SCFL President Jim Cavanaugh. The spirited rally, organized by Progressive Dane activists and union members, featured musicians Peter and Lou Berryman.
Opening the rally, Marv Henderson, a home health worker, spoke on behalf of thousands of individuals "working with our children, the disabled and the elderly, who have found themselves squeezed and burned out, by being forced to subsist on poverty-level wages." These workers are concerned and worried about getting sick, meeting rent payments and utility bills, the bare necessities for survival, said Henderson. "The time has come for Madison to enact a Living Wage ordinance."
Following Henderson, David Newby, State AFL-CIO President, explained why the labor movement was leading the charge for a living wage even though most union members are earning more than the campaign's goal of 110 percent of the poverty level. "The fundamental purpose and goal of unions is to raise the standard of living and the quality of life for all working people. Our basic value is a fair day's wage for a fair day's work," said Newby.
Newby asked, "If Milwaukee can agree that all who work for the taxpayers ought to be paid a living wage, why not Madison? If Portland, Jersey City, St. Paul, Baltimore, and Boston can agree to pay a living wage, why not Madison?"
Stan Woodard, speaking on behalf of the Madison Branch of the NAACP, said that the NAACP has always supported the rights of workers for a fair and just wage. "Why are workers who are dealing with our future, who work with our troubled kids, our elderly, our children, paid less than workers flipping hamburgers in our local restaurants?" asked Woodard.
Childcare worker Jackie Hilmer, makes only $14,000 a year working full-time after 10 years working in the field. With two kids, its hard to make ends meet. Hilmer called continuity of care "the single most important factor in providing quality childcare." High turnover among childcare workers, caused by low wages, affects children who need stable relationships and it threatens their futures, she said. "We have a choice, invest in childcare now, or prisons later."
Also speaking out at the rally were Dane County Supervisor and former Mayoral candidate, John Hendrick; 10-year-old activist, Nick Simons; Progressive Milwaukee organizer, Tammy Johnson; and striking UPS Teamster, Shawn Kuester.
Public Speaks Out
Following the rally, Living Wage supporters marched into the City Municipal Building to present testimony to the City's Living Wage Task Force. Not a single person at the hearing spoke against the Living Wage measure.
Judith Braham, speaking on behalf of the Madison Urban Ministry, warned against bowing to the "religion of money" and "the invisible hand of the market that takes from the many and gives to the few." Braham said, "The value of the market lies in its ability to serve the people."
Lisa Hanson, a single mother of two, explained that after being denied benefits, she would need to work three jobs just to survive. Child care alone costs Hanson $990 a month. "My children need my time, and I need my dignity," said Hanson. "I am desperate that this be passed. I can't wait a year, my kids can't wait a year," she pleaded. Hanson plans to begin working as a home health aid soon, and to pursue a career in nursing.
Former AFL-CIO Community Services Director, Leila Pine, testified that 66 percent of the homeless are working people, and '84 percent of those served by food pantries are working either full-time or working two part-time jobs."
Kate McCarthy, a Certified Nursing Assistant, told the Task Force that her wages have not increased since 1974, when she was able to get by on one job that provided benefits. "Now, I work three jobs, the first beginning at 5 a.m." McCarthy earns $6.50 an hour with no benefits - health care, vacation or sick leave. "How can we be expected to work tirelessly day after day and still provide quality care?"
These jobs are advertised as "no experience necessary," said McCarthy who is concerned that the best and most experienced people are leaving their jobs. Because of the turnover, McCarthy believes the frail elderly and people with disabilities are not getting adequate care by trained, knowledgeable workers. "How can someone with 'no experience' deal with the complex needs of quadriplegics and diabetics," asked McCarthy.
The baby boomer generation needs to face up to these problems, said McCarthy asking, "What's going to happen to us?"
Several supporters said they were not adverse to increasing the tax base to pay for the Living Wage. "I want my tax dollars spent to prevent problems and to support families in a meaningful way, rather then to deal with the individual and social costs that result when we don't," said Betty Volquardson.
Michelle Martin, speaking for the Wisconsin Childcare Workers Union summed up saying that this was not an issue for any single group of people. "This will effect all of us. If everyone has a decent standard of living, we give ourselves a good quality of life, we give ourselves safe streets, and schools full of children who are ready to learn."
Living Wage Campaigns: National Trend, Local Focus
The Dane County Living Wage Campaign is not just another one of those crazy ideas from those wide-eyed radicals in Madison. There are many other cities and counties around the country which have passed ordinances before us, and there are new campaigns springing-up every day.
Actually, there are only two broad similarities between all of the campaigns. First, that the goal is to improve the wages of area low-wage workers. And second, that the standard definition of a living wage is the federal poverty level for a family of four. Overall, ordinances delineate who are the affected workers, the new wage rates and benefits, and the effective date (which could include a waiting or phase-in period). Also included are mechanisms for future reporting requirements, and the monitoring, enforcement, and sanction process. However, the details of each law can vary greatly depending on the specific needs of the community.
For example, in New Haven, CT, custodial, security, and clerical workers' wages would be phased-in to 120% of federal poverty level by December, 2000; the City Controller would monitor the program and handle annual reporting/surveying; and there are sanctions ranging from $10/day to termination of the contract. In Baltimore, which was the first to pass a living wage ordinance, wages for all service workers will be increased to $7.70/hr. by 1999; each affected city agency is responsible for the monitoring and reporting of information; and sanctions include wage restitution, fines, and withholding of City funding. And, in the City of Milwaukee, the initial 1996 wage level was set at $6.05/hr. with an adjustment in March to meet the poverty level for a family of 3, for technical workers (but specifically excluding workers in professional services, Community Development Block Grant or Public Services).
The research in Madison and Dane County clearly showed that the lowest-wage workers are those in the health care, human service and child care fields. The strategy is to get wage initiatives into the 1998 budgets prior to the passage of ordinances. Additionally, it has recently been learned that the new campaign in Philadelphia will also be focusing on human service and child care workers to receive living wage assistance.
Los Angeles, Boston, Duluth, the County and School Board of Milwaukee, Minneapolis, St. Paul, Jersey City and others have passed living wage ordinances. In each instance, they have dealt with the 'who is included', 'how much', and 'when' in their ordinances, and yet each is different. In Madison and Dane County, we also can be successful in addressing the specific needs of our community.
Help Build a Grassroots Campaign for the Living Wage!
As the Living Wage Campaign moves past some tactical budget successes and heads toward legislative action, we need our elected representatives to hear from their constituents that local government policies should not keep wage-earners in poverty.

We need your help to put together a successful volunteer-based campaign to get this message to the public and to our elected officials. Some activities may include: calling or visiting elected officials, providing testimony (oral or written) at public hearings, writing letters to the editor, phone banking, neighborhood meetings or house parties, or speaking to other groups to get our message out.
If you're interested in participating, give us a call at the Progressive Dane office at 257-4985 or email berigan@macc.wisc.edu